Urban Nature Project: a summer update
What's happening in the gardens?
Earlier this summer our John Laundon, Partner, visited the Natural History Museum's Urban Nature Project, of which Workman is a proud sponsor.
The Museum's five acres of outdoor space in South Kensington is being transformed into a welcoming, accessible, and biologically diverse green space in the heart of London.
The initiative aims to give people across the UK, no matter who they are or where they live, the motivation and tools to safeguard nature in towns and cities, so that people and planet can thrive.
During his visit, John was invited by Natalie Tacq, Senior Project and Programme Manager at the Natural History Museum (both pictured right), to tour some of the progress within the gardens.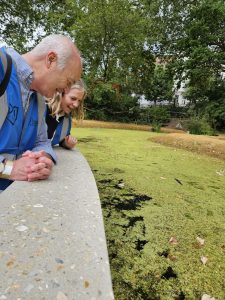 The sunken pathway through the centre of the new pond has now been formed, which will provide much-improved access for visiting schools and allow them to closely observe the pond life.
The Nature Activity Centre Supported by AWS blockwork construction has progressed well, and the exposed timber roof structure has been installed. Blockwork construction has also commenced to the Garden Kitchen, with the glulam timber frame being fabricated to follow on.
The new accessible ramp from the South Kensington Underground Station has been excavated and the Museum's contractors, Walter Lilly, are now continuing to form the retaining walls and ground beams.
New service routes are being run across the site and pathways are being formed, with topsoil and subsoil are being retained on site for reuse during the soft landscaping.
An extensive planting programme will take place this autumn, creating a biologically diverse urban wetland system.
Closed to the public since late 2022 while this transformation takes place, the Natural History Museum's gardens are due to re-open in spring 2024.
To find out more about the project visit: