Garden opening: The Natural History Museum's newly renovated, step-free and biologically diverse green space, dedicated to urban nature and proudly sponsored by Workman, will be opening in summer 2024.
Currently, the gardens, pathways and buildings are all taking shape throughout the gardens at the Natural History Museum.
Due to the complexity of such a major construction project, the gardens are now due to open in summer 2024. The Natural History Museum is working hard to create a haven for people and wildlife, challenging itself to deliver the most sustainable build it can, while protecting and enhancing the existing biodiversity.
Two new buildings under construction in the Gardens
The Museum's two new buildings, The Nature Activity Centre Supported by AWS, and the Garden Kitchen are taking shape, with the structure of the roofs now complete.
The Nature Activity Centre supported by AWS (pictured below, under construction) will combine vital facilities for scientific work, monitoring, learning activities, maintenance and supporting the volunteer community so important to the upkeep of the gardens.
The Garden Kitchen, (pictured below, under construction) will be a multipurpose café and events space, providing somewhere to sit and enjoy the new gardens.
Pondlife returns
Since refilling and translocating the ponds back in April and May 2023, nature is slowly reclaiming the wetland habitat. The pond plants are establishing well (pictured below) and a large number of willow emerald damselfly have been spotted, along with other species of dragonfly and damselfly.
Piecing the timeline wall together 
The major process of installing the stone in the timeline wall has now begun. This giant jigsaw puzzle (pictured below) starts at 2 billion years old with Lewisian Gneiss.
Harvest time in the vegetable garden
Contractors, Walter Lilly, created a meanwhile-use vegetable patch on the construction site in advance of the garden opening next summer. Cabbages, raspberries, aubergines, tomatoes and more flourished on a spare spot of land. It's provided the Walter Lilly team with an outlet away from the challenging work of transforming the gardens. The plants are even attracting pollinators into the gardens.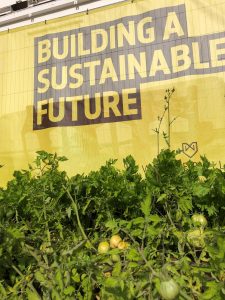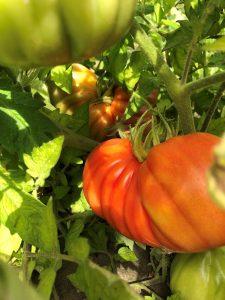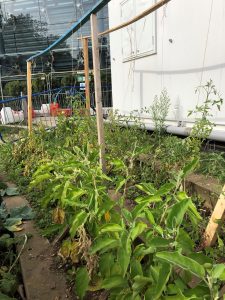 Soon, the vegetable garden will be occupied by the Nature Discovery Garden. A project is currently underway with Morley College and Grow2Know (pictured below) to create a planting installation in the gardens, representing the Museum's local communities and showcasing the importance of plants in human culture.
A fox's life
And finally, the garden's resident fox cubs continue to use the construction site as a playground. It has been a vital part of the construction process to ensure that the nature that calls the gardens home is allowed to thrive.
What's next for the gardens?
Coming soon…the first of the plants will be going into the gardens.
These will the Dicksonia antarctica tree ferns (pictured below), creating the carboniferous forest in the Evolution Garden.
Image credit: The Trustees of the Natural History Museum, London